Rewards Program
Here are RE/MAX Victory we would like to thank our tenants who keep their rental properties in excellent condition! Therefore we have created a Rewards Program where upon inspection excellent well kept properties receive a small gift at each inspection and if there are no breaches and rent paid on time they will also go into the draw every quarter to win a MAJOR PRIZE worth $100! Below are the Terms and Conditions and details of our latest MAJOR DRAW!
Congratulations to Cassandra Jones & Nathaniel Gardiner for being great tenants and to show our appreciation they have received a $100 Movie Voucher! Enjoy!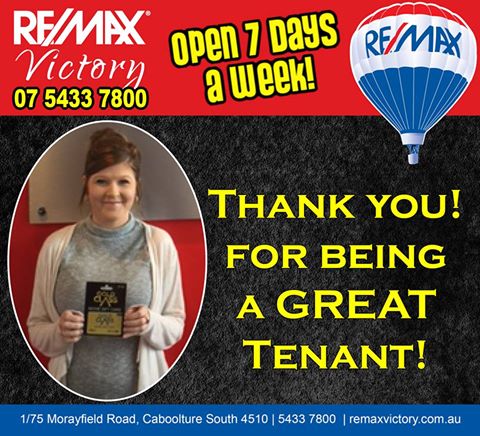 TERMS AND CONDITIONS
ELIGIBILITY FOR ENTRY INTO COMPETITION
1.    By entering the Competition, you agree to be bound by these terms and conditions.
2.    To be eligible to enter the Competition, you must:
a.    be 18 years or older;
b.    own or rent a property that we manage at RE/MAX Victory 
KEY DATES
3.    The Competition will run during the Competition Period 1 May to December 2016, with Major Prize drawn at every quarter of the year.
4.    Winners will be announced in the last week of each quarter in the month of June / September /December
COMPETITION
5.    Unless otherwise notified by us, one tenant of each property managed by RE/MAX Victory Real Estate is only entitled to submit one entry to this Competition
6.    To enter the Competition, you must have an Excellent inspection report and no breaches each quarter to enter the draw and rent paid up to date.
7.    You will only be eligible for the Prize for the Competition at the end of each quarter.  
ENTRY REQUIREMENTS AND VERIFICATION
10.  We may, in our absolute discretion, disqualify you from the Competition and declare your entry invalid if:
a.    you are not a tenant of a property that we manage at RE/MAX Victory
b.    you breach any of these terms and conditions. 
PRIZE WINNERS
12.  We will award one Major Prize at the end of each Quarter of the Year. We will determine the Prize winners by drawing a name out of a hat from those who had A1 inspection reports for that quarter.
13.  Winners will be notified by telephone and / or email and will also be announced in our newsletter and facebook.
14.  A photo for advertising will be taken with first name only of the winner of the Major Prize for each quarter. 
GENERAL
15.  Entrants/Tenants must provide full access to the relevant property throughout the Competition and at routine house inspections.
16.  We may, at our discretion, feature the winners and the winning properties in any of our marketing communications, including but not limited to newsletters, social media and print media. By entering this Competition, you consent to such use and disclosure.
17.  If you are a winner, you must, at our request, participate in all reasonable promotional activity (such as publicity and photography) surrounding the winning, free of charge, and you consent to the use of your name and image on all promotional and marketing material. First name only if preferred will be accepted.
18.  Our decision in relation to the Competition and the winners is final and binding on you and each person who enters. No correspondence will be entered into with any entrant except with the winners after the winners have been determined.
19.  It is your responsibility to notify us if your contact details change during the Competition Period.
20.  In the case of the intervention of any outside act, agent or event which prevents or significantly hinders our ability to proceed with the Competition on the dates and in the manner described in these terms and conditions, you agree that we may in our absolute discretion cancel the Competition and have no liability to you in such circumstances.
21.  YOU ENTER THIS COMPETITION AT YOUR OWN RISK. Except for any liability or any consumer guarantees that cannot be excluded by law, we (including our officers, employees and agents) exclude all implied terms and all liability howsoever caused, for any personal injury, loss, damage or claim, whether direct, indirect, special or consequential (including but not limited to loss of profits, loss of revenue and loss of opportunity) arising in connection with the Competition.
PERSONAL INFORMATION AND PRIVACY
25.  By entering the Competition, unless otherwise advised, you agree that your personal information may be disclosed to those involved in conducting the Competition or those that assist in providing information about our services, such as mailing houses or marketing companies. The information provided may also be entered into a database for future promotional, marketing and publicity purposes.
We will not use any personal information you provide to us for any other reason without your cons