Newsletter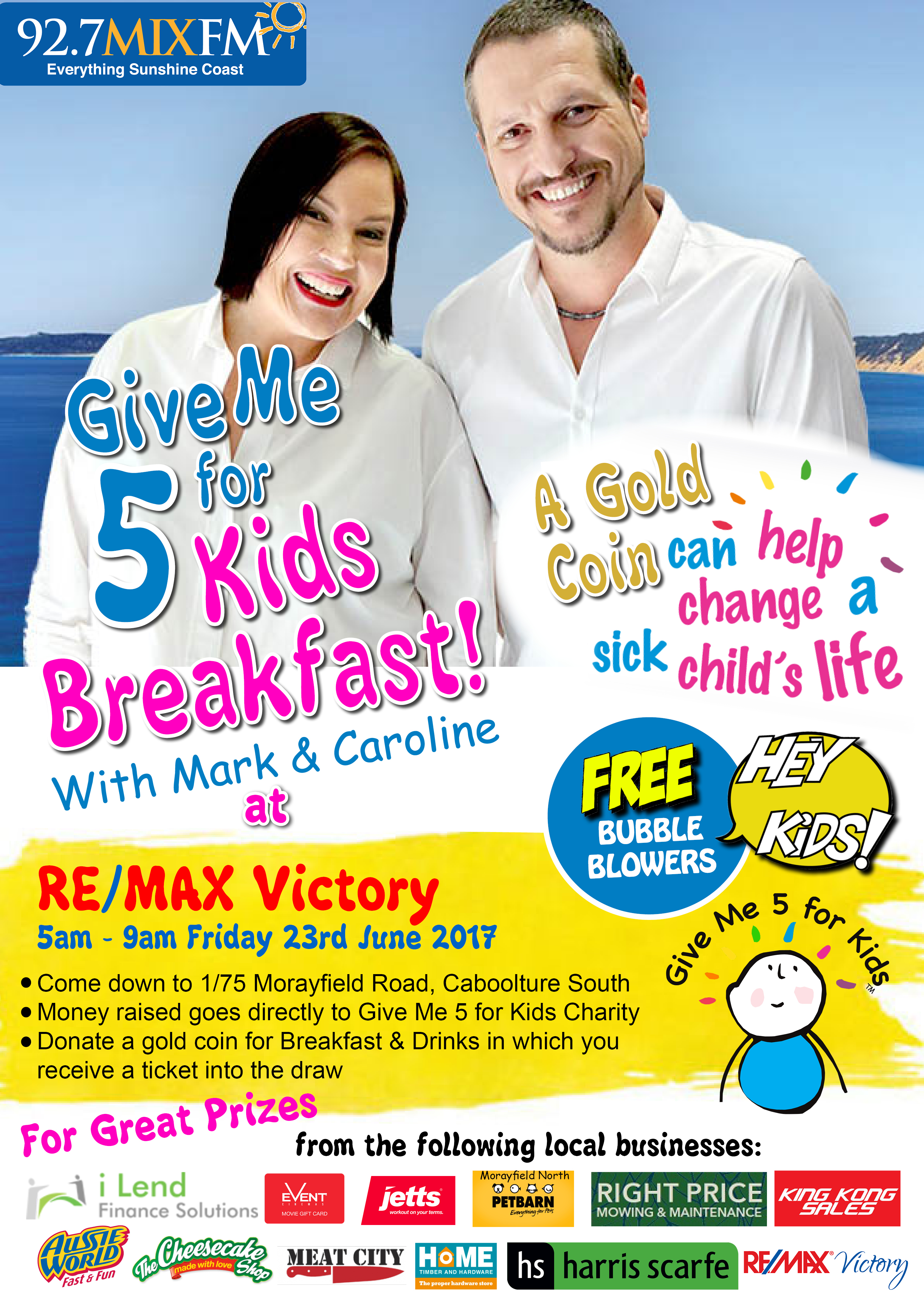 Hey All!! Come down 5am - 9am to the RE/MAX Victory Office this Friday morning 23rd June and help raise money for GIVE ME FIVE FOR KIDS with Mark and Caroline broadcasting live on 92.7 Mix Fm Breakfast Show.right outside our office!! 
Breakfast will be on offer and there will be a gold coin donation for all food and drinks in which you will receive a ticket into the draw to win some great prizes 
from local businesses, with all money raised directly going to the GIve me five for kids charity!

We are at 75 Morayfield Road, Caboolture. FREE Bubble blowers will be given out to the kids with the following prizes and donations up for grabs!

*** $500 donated by Anish Prasad from I Lend Finance Solutions
*** An Entertainment GIft Pack great for school holidays with Two Event Cinema Movie Cards, an EB Games Gift Card and an Ultimate KIds Gift Card donated by RE/MAX Victory.
*** 3 month Gym Voucher donated by Jett Fitness Morayfield
*** Doggie Pack valued at $75 donated by Petbarn Morayfield North
*** $100 Lawn and Garden Voucher donated by Right Price Mowing and Maintenance
*** $50 Gift Voucher donated by Meat City Morayfield
*** A Double pass to Aussie World donated by Aussie World
*** A regular size cake donated by The Cheesecake Shop Morayfield
*** An Esky Package donated by Home and Hardware Morayfield
*** $50 Gift Voucher donated by Harris Scarfe
*** $50 Gift Voucher donated by King Kong Sales Morayfield

Be listening to 92.7 Mix Fm for details!! See you all there for Breakfast and thank you to all the great local businesses that have offered their generous donations for a great cause!